I've been frustrated lately.
You see I have this blog, you're actually reading it now. Over the last month or so, I haven't put much effort into it.
It's not because I'm bored with it, or don't like enjoy doing it. It's because I don't have the time to focus on it.
The issue is, I hold down a day job. You know the routine, get up at 5:30, get the kids off to school, spend anywhere from 2 – 4 hours commuting to and from work, and a minimum of 8 hours in the office.
By the time I get home, I'm tired.
But I'm not done yet. Forgot about that hockey game I need to get my son to, need to play legos with the 3 year old, oh and I have that presentation I need to finish up for the 9:00 meeting in the morning. Shouldn't have gone to lunch today, wait a minute, I didn't.
Ok, so how do I find the time to work on this blog?
That's the challenge isn't it? Which is all the more reason why you need a successful blogging strategy if you want to blog while holding down a full time job.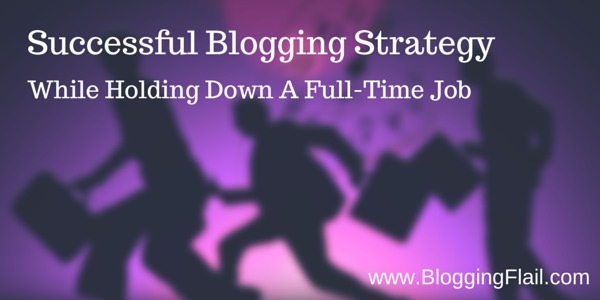 They Never Said This Was Going To Be Easy
To have a successful blogging strategy, you need to treat your blog as a business. If you put the effort into it, chances are it will be a success. If you don't, then it will go the way of the 1000's of other blogs that just die ever single day of the week.
Blogging is hard work. Not hard in the sense of manual labor, but hard in that it's time consuming.
Take a look at the things you need to do each and every week:
Research 
There's a lot of research that goes into blogging. Don't necessarily expect to plop down in front of your computer and start cranking out posts.
You need to brainstorm post ideas, gather ideas for that post, do your fact checking, find statistics, etc…
Which leads us to…
Writing Awesome Content
It takes time to write great content.
I'm not a journalist by trade, so writing isn't what I would consider my strong point. For me to pull together a 1500+ word post and edit it can take me anywhere from 5 – 10 hours based upon the topic I'm writing.
Networking
As I've been trying to preach on this blog, if you don't network, the chances of your blog succeeding is nada, zero, nil.
Networking is all of the following:
Finding the right bloggers in your niche
Responding to comments on your blog
Commenting on other blogs (over and over and over)
Sharing content on social media
Networking off your blog should take up as much time, if not more, as the work you are doing on your blog.
Guest Posting
Think writing content on your blog is enough? Nope!
If you want to increase visitors to your site, you need to guest post on other blogs. This involves more research on the blogger, finding the right topic, writing even better content, and responding to comments on your guest post.
The Technical Stuff
Let's not forget maintaining your blog.
There's always new plugin's to find, email marketing, theme's to keep updated, analyzing metrics. The list goes on and on…
As you can see, there's a lot of work involved in this blogging thing.
If you are still wondering if you can be successful at blogging while holding down a full time job, the short answer is yes.
But be prepared, it's going to be a lot of work.
Here are 6 tips to a successful blogging strategy while holding down a full time job.
Successful Blogging Strategy With A Full Time Job
So is it possible? Sure it is. A ton of people are successful part-time bloggers.
Here's a few folks that you may not realize hold down full time jobs, but are still able to run a successful blog.
Kevin Duncan – Be A Better Blogger, Steven Wilson – High Powered SEO, Luke Jordan – InterGeek, Lisa Sicard – Inspire To Thrive, Richard Martin – The Smart Income Detective. These are just a few names of bloggers that I follow on a regular basis.
So how do you blog while holding down a full time job?
That's the question we want to answer isn't it? Let's take a look at some things you can do to implement a successful blogging strategy while holding down a full-time job.
It all really comes down to time management.
Post At Your Own Pace
You'll see a lot of advice that states you should be posting 2 – 3 times a week if you are starting out a blog.
I call BS on that.
Number one, I don't have the time to do that given everything else going on in my life.
Number two, I really don't think that's necessary.
Post at your own pace. If you can only post once every two weeks, define that timeframe as your publishing schedule.
Whatever your schedule happens to be, just be sure to stick to it.
Leverage Your Lunch Hour
We all have a lunch hour, or 30 minutes, or something don't we?
I have the luxury of having a number of eating establishments at my place or work. Potbelly being my favorite, turkey on flatbread – everything buy mayo and go light on the hot peppers, but that's a topic for another post.
My point is, I can run downstairs, grab a sandwich, and bring it back to my desk while I'm doing some work.
If by chance I'm having a light day, I can use that time to write some content or do some blog commenting.
Brainstorm During Your Commute
I do some of my best thinking on my drive to and from work.
On a good day my commute is at least an hour, on a bad day it can take upwards of two hours. That gives me a lot of time to think about things.
I can brainstorm topics for new posts, strategies to implement on email marketing, think about technical upgrades to my site, etc…
Bonus Points – Use your shower time. I'm not one to sing in the shower in the morning, but I do think about strategies for my blog.
Leverage Your Smartphone
With the advent of smartphones, you can pretty much do anything anywhere.
One of the best apps I have ever downloaded is the WordPress application for my iPhone. I can check my stats, approve comments, and even reply to comments.
Granted it's not quite as easy as doing things on a computer, but I can do some of the day-to-day things wherever I'm at.
I do a lot of this during lunches and while waiting for hockey and guitar practice to finish up.
Bonus Points – Leverage your Smartphone during boring conference calls to pass the time.
Work After The Kids Go To Bed
You may have to give up watching Sports Center every night after the spouse and kids go to bed, but what better time is there then this to focus on your blog? Talk about true distraction free writing.
I'm a night owl, and even though I get up early for work, I tend to find myself staying up to midnight on most nights. I can get quite a bit done if I use this time wisely.
Block A Few Hours On The Weekend
This one is the most difficult. After working all week, my weekends are meant for family. Then whatever little time is left over, you have to fit in yard work, errands, and all the other misc. stuff you don't have time for during the week.
However, if you can convince the spouse that you really like to tinker with your blog, I'm sure they'll let you have an hour or two to yourself. Right?
You can always leverage the previous point and stay up late, which is what I seem to do.
Yes It Is Possible
There it is…
6 ideas to implementing a successful blogging strategy while holding down a full time job.
It is possible, but I'm going to warn you, it's not easy. Finding the time to work on your blog on top of your day job and everything else is a challenge.
This is one of the biggest frustrations I find with blogging. There's just not enough time in the day to get everything done.
Whether you blog full or part time, what are your time management secrets? I'm sure we would all like to know how you do it (I know I would).
And by the way, if you know of other bloggers that hold down full-time jobs, would you mind sharing their blogs with us? I'd love to be able to connect with them as well.
If you're interested in learning more about Blogging Flail, simply click here.