[This is part 1 of a series of 5 articles on how to start a blog.  To view the main post, with links to all of the relevant content, read my post on Steps To Start A Blog.]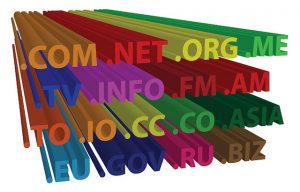 The first thing you'll want to do is purchase a domain name that suits your blog. The key here is finding a domain that is available.  It seems everyone and their brother has a blog or website that they've created, so it can sometimes be a challenge finding an available domain name, especially if you want a TLD (Top Level Domain) of .com. Take your time when establishing a domain name, as this will be how your readers will identify with you.
Top Level Domains
The first step in establishing a domain name is choosing a Top Level Domain (TLD). There are a number of TLD's that you can pick from.  A few of the choices that are currently available (and there are more being added) can be found in the below list:
.com
.net
.org
.info
.bike
.camera
.clothing
I would stick to the top 3 on this list.  These are the popular TLD's, and have a proven track record when it comes to ranking in the search engines.
Establishing A Domain Name
The key here is selecting a domain that matches what you intend to write about.  If you plan on creating a niche blog that focuses on a certain topic, you probably want your domain to speak to what you are planning to write about.  It's also helpful to the search engines if the "key word" of your blog is somewhere in your domain name, as that could have the potential of helping you rank better in the search engines. For example, if you are planning to blog about Widgets, be sure that name is somewhere in your domain (e.g./www.thisismywidgetblog.com).
Purchasing a Domain
Typically you need to purchase a domain before you can host it, there is however one exception that I'll call out below.  Once you've identified your domain name, you need to check to see if it's available.  The easiest way of doing this is going to a hosting provider's website (I've used GoDaddy, FreeHostia, & InMotion Hosting) and they have tools on their site to check on the availability of domains.  Just follow the links to check a domain, and you will be presented with some options to purchase if the domain is available.  Purchasing a new domain is relatively cheap, plan on spending about $10 – $15/year for a .com TLD.  One item to note, most hosting provides will throw in the domain name at no additional charge if you purchase one of their hosting plans.  So instead of purchasing the domain, purchase a hosting plan (see the following section), and you will have an option to add your domain name as part of this purchase.
Getting a Domain for Free
As I mentioned above, there is one exception in having to purchase a domain name (and hosting plan) to start a blog.  You can easily start a blog by going to wordpress.com, register for a free account, and you can have a blog up and running in a matter of minutes.  There are a few limitations with this approach, one of them being that you are somewhat restricted with the structure of your domain name, and other limitations that we'll cover in a later post.  While you do get to select the key word(s) of your domain, the domain name of your blog will be appended with the verbiage of "wordpress.com". Using our previous example of Widgets, your domain name will be structured as:  thisismywidgetblog.wordpress.com.
Spend the time finding and establishing a domain name for your blog, as this is how people will identify with you once you become more established.  It's not easy changing this once you have a blog up and running, so it's important putting the appropriate effort into it.