You made it, or so you think.
You've created great content for your blog, and decided to start building an email list. All of your efforts are paying off, as you are slowly building your list of email subscribers.
Chances are you're feeling pretty good about yourself, and decide to create your first email campaign for that small set of subscribers you worked so hard to attain.
You spend hours creating unique content on your site that is only available to your subscribers, and proudly include that link in your first newsletter.  You hit send, sit back and wait excitedly to see what percent of subscribers open that email and click on any of the links you've included.
Then the unthinkable happens.
Someone unsubscribes from your list, or worse, marks it as spam!
Panic sets in. You just lost your first email subscriber.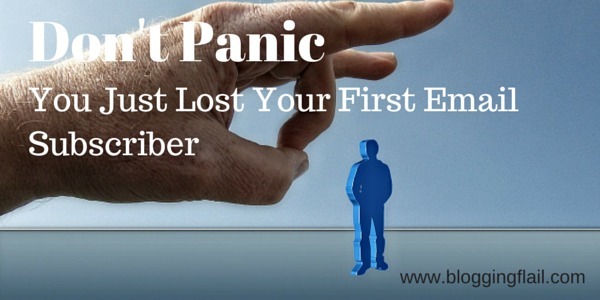 Good Riddance
Once you get over the initial shock, you'll realize this isn't such a bad thing.
You see, the typical open rate for an email campaign is somewhere south of 25%, depending upon what industry you are targeting. So if you are expecting 100% of your emails to be opened, you need to reset your expectations.
The unsubscribe rate for an email list should normally be under 1%.
Constant Contact has some great statistics on average open, click-through, and opt-out rates broken out by industry, if you want to take a closer look.
These things happen, and it's really for the better.
Do you want subscribers that will never open an email you send, do you want a subscriber that won't be engaged on your blog?
That's easy. No!
You want your email list to consist of those subscribers that will engage, that will open your emails, and that will click on the links that you've included.
Good Riddance!!!
Remember, you're building an email list for a purpose. Whatever that purpose may be.
Chances are that someday, someday when your list has grown, you'll want to sell something.
Whether that something is a product you've created or a service you are offering, you'll want potential sales.
So let's weed out your list now, keep the good and get rid of the bad.
Good Riddance!!!
Too Many Unsubscribes
If your unsubscribe rate is within the threshold that I've called out above, there's no reason to panic. Remember, you've only done your first campaign.
Ride it out, and evaluate things after your subsequent campaigns.
However, if your unsubscribe percentages are higher than average, you may want to take a look at a few things. Is any of the following possible:
Are you sending too many emails?
Is the content relevant?
Is the content what you initially promised?
Pauline Cabrera recently did an expert roundup with 20 influential bloggers and asked why do you unsubscribe from an email list? Some of the answers may surprise you, most should not. In any case, this is something you probably want to take a look at.
Nobody Is Reading My Email
Remember, you'll be lucky to get 25% of your list to even open your email.
The open rate for the limited number of campaigns that I've sent out is is right around 36%. At first I was horrified by this. But after evaluating the statistics, I'm finding that's actually pretty good.
If your not seeing an open rate that is between 20% – 25%, you may want to take a look at a few things.
Boring Subject Lines
Are your subject lines catchy? Do they scream – open me?
Similar to your blog headline, you want an attention grabbing subject line. This email needs to stand out from every other email that a person on your list receives on a daily basis.
So how do you do that?
By writing a subject line that gets emails opened that's how.
Too Many Emails
Are you sending too many emails?
If you're sending multiple emails a day/week, perhaps your subscribers are tired of seeing all of them. Instead of taking the time to unsubscribe from your list, it may be easier for them to simply delete them from their in-box.
So what's the right frequency? Chances are if you ask 5 people this question, you'll get a different answer from each of them.
How about this. Send enough so they don't forget you, but not so many that you annoy them.
How many emails would be too much for you to receive from any one person? That's probably your answer.
Check Your Spam Score
Are you sure your emails are getting through to the recipient? Maybe they're ending up in their junk folder.
So how do you avoid this?
Check your spam score.
Most, if not all, Email Marketing Clients have a built in spam score checker. Use it!
Before you publish your next newsletter or email campaign, take the 5 seconds to check your spam score.
Segment Your List
Perhaps your targeting multiple audiences on your site.
Say you have a blog that focuses on motorcycle brands. If you're sending an email on the latest and greatest Triumph model, I'm pretty sure the Harley Davidson fanboy won't give a rats ass about that.
So create multiple lists, and focus your email campaign to that list.
Summary
Don't fret about your unsubscribes. It's going to happen.
Having said that, it is a good thing to monitor your statistics. If your email open rates or unsubscribe numbers are higher than the norm, then it's time to act. Here are 5 costly list building mistakes you want to be aware of.
Keep these things in mind:
Don't go crazy with the emails
Keep the content relevant and focused on what you initially promised
Create catchy subject lines (and check your spam score)
What do you think? Do you get worked up about your unsubscribes, or is it something you just don't worry about?
By The Way – If you're frustrated with blogging, don't give up. I was there and I decided to do something about it. If you're interested in following my progress, just click here.