I recently migrated my personal WordPress.com blog over to a self-hosted blog, only because a domain that I've been stalking for some time recently became available. One of the constraints with using the migration tool supplied by WordPress, is you must use the same permalink structure that is used on WordPress.com. I wanted to change this permalink structure to be a little more SEO friendly, so I updated it about a month after my initial migration to use the "Post Name" option that is available.
I thought this might be a good time to do a little case study on the WordPress Permalink Structure SEO impact of a permalink change for a few of the keywords I've been tracking.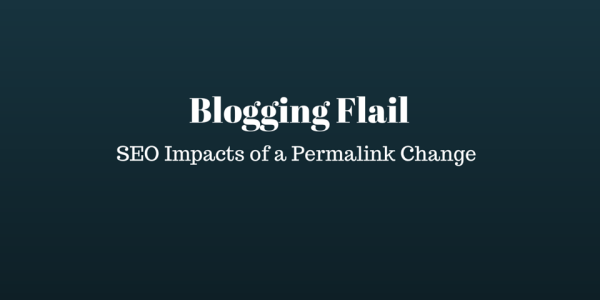 WordPress Permalink Structure SEO
When you migrate from WordPress.com using the site migration upgrade, you are required to use the same permalink structure that was used on your WordPress.com blog. I described that in detail in my post on implementing the site redirect upgrade.
To summarize that post, you need to use the "Day and Name" option which isn't the best option for SEO purposes. The permalink structure you should be using for a new blog, at least for SEO purposes, is the "Post Name" option. So that's exactly what I did with my personal blog. After going through the initial migration and letting things settle for over a month, I changed the permalink structure over to "Post Name", implemented the proper redirects, and waited for Google to find it's way to my new URL
I was wondering about the WordPress Permalink structure SEO impacts on my ranking, so I documented the search results for 10 of my favorite keywords. Is the "Post Name" option really that much better for SEO than the "Day and Name" option? After waiting a few weeks, I had my result.
WordPress Permalink Structure SEO Impact
I created the following before and after comparison for the 10 keywords I was tracking:
As you can see, it does make a difference. In all cases but one, which I'll describe more below, the permalink change either had a positive impact or no impact at all. For 5 of my keywords that were already ranking #1, there was no change. For 4 of the keywords, there was a positive change and in 2 of those cases this change was dramatic.
So what about the one keyword that didn't fare so well? This keyword had a decline of 3 positions in the SERP's. I don't believe this is a result of the permalink structure change, but more so was a result of some minor tweaking I did to the posts content right after I made the permalink change. I realized, after the fact, that I shouldn't have made any content changes, as this could have an impact on any search results.
Conclusion
So is there a WordPress Permalink structure SEO impact? I'm convinced there is, and wouldn't hesitate to use the "Post Name" permalink option on any other blog I'm using. If you throw out the one keyword that I consider being invalid for this test, there was either a positive or no impact  in 100% of all keywords I tested.
Opinions?